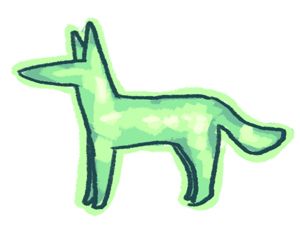 When I was little I had this simple, sweet glow-in-the-dark dog on a necklace (THE COOLEST, guys). I think he's the spiritual predecessor of these puppies:
Who are, by the way, finally pretty much done! I just need to tile the texture (scanned from an old book of children's poetry) to match the doggies, but I'm otherwise letting this go.
The next time I make a pattern, I'll try for a more coherent color scheme instead of ROYGBIVing it. Learned a lot from this, though, including some speedier simple rendering techniques. Fun stuff.